Arugula Pizza With White Beans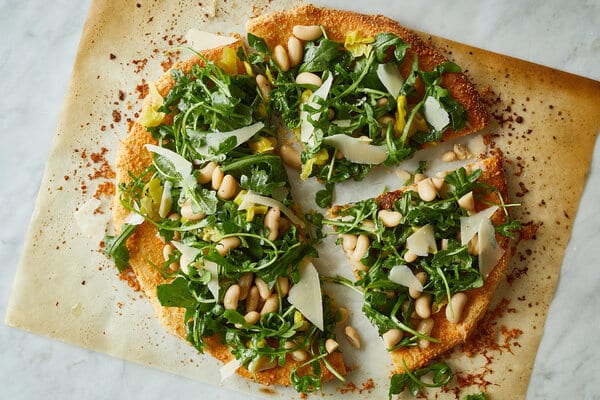 This pizza features a mountain of brightly dressed greens and beans atop a crisp Parmesan crust. Rolling the dough very thin takes some patience, but the reward is a snappy crust similar to that of pizza tonda, a thin-crust pie that's popular in Rome.
The salad is made of arugula, white beans, and pickled pepperoncini, dressed simply with olive oil and the brine from the peppers, but any salad topping would do.
INGREDIENTS
1 (15-ounce) can white beans, such as Cannellini or Great Northern, rinsed
¼ cup sliced pickled pepperoncini (about 6 to 8 peppers), plus 2 tablespoons brine
2 tablespoons extra-virgin olive oil, plus more for greasing
 Kosher salt and Black Pepper
1 pound store-bought or homemade pizza dough, at room temperature, divided into two 8-ounce portions
1 cup freshly grated Parmesan, plus more for serving
3 to 5 ounces Baby Arugula
PREPARATION
Heat the oven to 500 degrees. Place a sheet pan in the oven to heat.
In a large bowl, stir together the white beans, pepperoncini, pickle brine, and 2 tablespoons extra-virgin olive oil. Season with salt and pepper; set aside.
Place a kitchen towel on a work surface, then place an upside-down sheet pan or cutting board on the towel. (This will serve as your pizza peel; the towel stabilizes the setup as you roll the dough). Lightly grease a piece of parchment with olive oil and place on top of the upside-down sheet pan. With a lightly greased rolling pin, roll one half of the dough on the parchment as thin as you can, about 1/8- to 1/4-inch-thick. (If the dough retracts, let it rest a few minutes before continuing.)
Sprinkle 1/2 cup Parmesan over the dough. Remove the preheated sheet pan from the oven, and carefully slide the parchment with the dough onto the hot baking sheet. Cook until golden brown on the top and bottom, 10 to 12 minutes. Meanwhile, roll out the remaining dough on a second piece of greased parchment and cover with the remaining 1/2 cup Parmesan. Transfer the first pizza to a cooling rack to crisp, then repeat with the second piece of dough.
Add the arugula to the bean mixture, season with salt and pepper, and stir gently to combine. Top each pizza with the salad, plus more grated or shaved Parmesan.
---