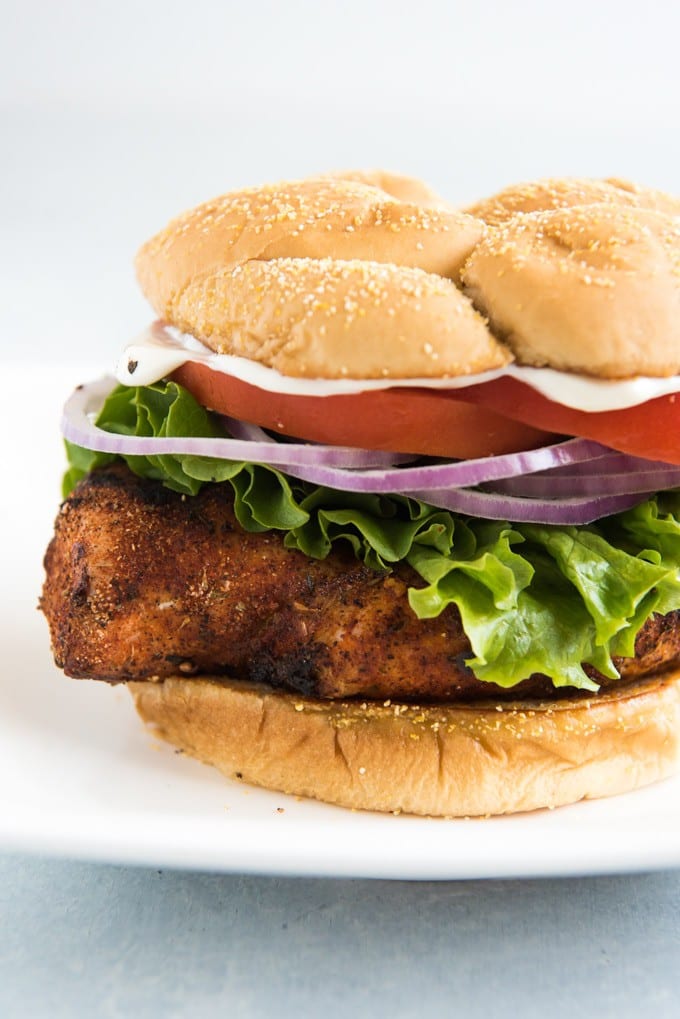 Grilled Cajun Chicken Sandwiches are deliciously spicy with a crispy, blackened crust that forms around the juicy, tender chicken breast when seared over high heat.  Then you sandwich the chicken between soft, toasted buns with cool and crispy lettuce, tomatoes, and red onions for a fabulous alternative to your standard burger fare!
Ingredients
4 boneless skinless chicken breast halves (about 4 ounces each)
2-3 tablespoons homemade Cajun Spice Rub
1/2 cup shredded nonfat or reduced-fat Swiss cheese
4 whole wheat or multigrain burger buns
4 slices tomato
4 slices red onion
4 leaves romaine lettuce
Preparation
Moisten chicken and apply the rub. Set the chicken aside for 15 to 30 minutes to allow the flavors to penetrate the meat better.
Grill the chicken over medium coals for 12 to 15 minutes or until done. Sprinkle 2 tablespoons of cheese over the top of each piece of chicken, return the chicken to the grill for 30 to 60 additional seconds or until the cheese has melted. (If you want toasted buns, split them open and place them on the broiler pan or grill along with the
chicken during the last minute of cooking.)
Place a piece of chicken on the bottom half of each bun and top with a slice of tomato, a slice of onion, a lettuce leaf, and the top half of the bun.
Serve hot.
---