Herb Breakfast Sausage Patties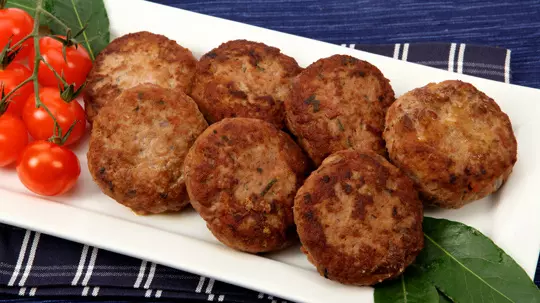 Many of us grew up believing that breakfast should include fruit, sweetened yogurts, grains, and cereals. We may as well have called it "dessert."
A quality breakfast is instrumental in balancing hormones, but it's important to eat things that truly nourish and fuel you. That's why we love these high-protein breakfast patties, which are perfect for meal prep and easy reheating on busy days.
We personally recommend avoiding a high carb, high sugar breakfast in favor of the PFF breakfast (protein, fat, fiber.) By loading up on protein, fat, and fiber, we guarantee no blood sugar dips, and sustain blood sugar levels so we don't exhaust our adrenals. Proteins are also full of amino acids, which are the building blocks of our hormones. Plus, eating this way helps us break our sugar habit.
These breakfast sausage patties are full of fresh and dried herbs with a subtle maple sweetness, though you can opt to leave out the maple syrup if you'd like. Best of all, they're baked in the oven for easy cleanup.
Enjoy these patties with a side of avocado and your favorite, fiber-rich veggies for a sustaining and delicious breakfast.
Ingredients
1 pound grass-fed ground pork
1 tablespoon pure maple syrup (optional)
1 teaspoon fresh chopped thyme, leaves only
1 teaspoon paprika
¼ teaspoon dried sage
¼ teaspoon garlic powder
½ teaspoon sea salt
¼ teaspoon black pepper
Preparation
Preheat oven to 400ºF and line a medium baking sheet with parchment paper.
Combine pork, maple syrup, and seasonings in a medium mixing bowl and thoroughly mix to combine.
Form mixture into 8 small patties and place on baking sheet 2 inches apart—Bake for 10 minutes. Gently flip patties using tongs and bake for an additional 8-10 minutes.
---