Orange-Ginger Glazed Turkey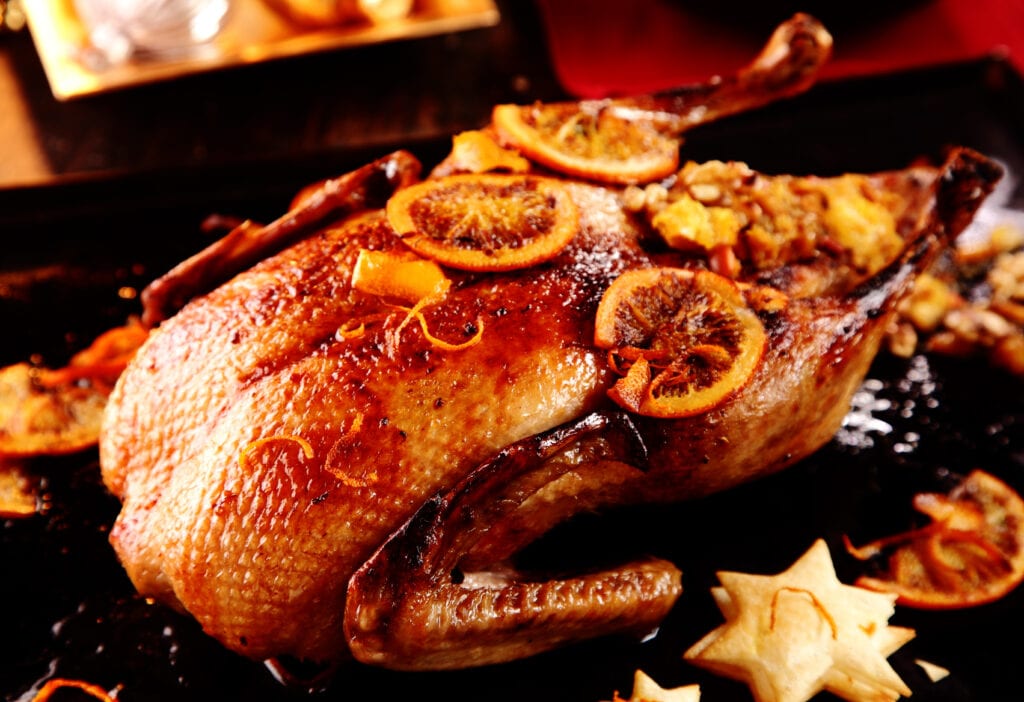 Orange-Ginger glazed turkey for your Thanksgiving Feast! This easy, flavorful approach to turkey is sure to please!
We take a 2-step approach to this turkey:
Step 1: Make a "slurry" by combining olive oil, paprika, and sea salt, and spread this mixture over the turkey.
Step 2: Prepare the glaze and spread it on the bird 30 minutes before it has finished roasting.
Once the bird has finished roasting, be sure to allow it to rest at least 15 minutes to allow the juices to distribute throughout the bird evenly – this will generate a super tender result!
Ingredients:
For the Turkey
3 lb. turkey breast, fresh (if frozen, completely thaw before using.)
1/2 cup olive oil
1.5 tablespoons paprika
1 teaspoon sea salt
1 medium onion, cut into large chunks.
2 ribs celery, cut into large chunks.
2 medium carrots, cut into large chunks.
1 Orange Quartered.
3-4 Sprigs Rosemary
Orange zest for garnish (optional)
Spicy Orange Slices for garnish (optional) See Recipe Here.
For the Glaze
3 ounces frozen orange juice concentrate, do not dilute.
3 garlic cloves, minced.
2 Teaspoons ginger minced.
2 teaspoons cornstarch mixed with 2 tablespoons cold water
1/4 teaspoon paprika
1 tablespoon no-sugar-added orange marmalade.
1/2 teaspoon low-sodium soy sauce or liquid aminos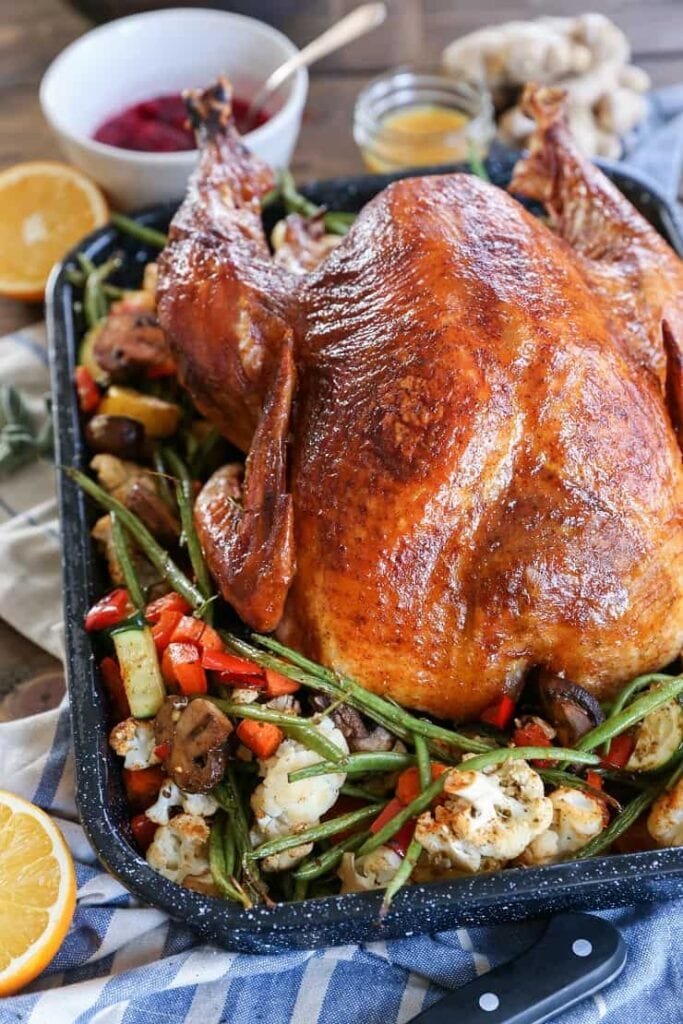 Instructions:
Un-wrap the thawed turkey and rinse it off in the sink. Use a paper towel to pat it dry. Place the turkey in a roasting pan and add onion, celery carrots, orange slices, and rosemary sprigs into the turkey's cavity.
Add the olive oil, paprika, garlic powder, and sea salt to a small blender and blend until completely combined. Spread this mixture over the turkey and allow it to sit for 15 minutes as it comes to room temperature.
Preheat the oven to 325 degrees F. Roast turkey for 3 hours, or until the breast meat reaches 160 degrees F (remember the bird will continue "cooking" once it's out of the oven).
While the turkey is roasting, make the orange-ginger glaze. Add all ingredients to a small saucepan or skillet and heat over medium. Bring to a full boil and continue cooking, occasionally stirring, until the liquid has reduced to half its original volume.
30 minutes before the turkey has finished roasting, remove it from the oven, and brush the glaze over it. Continue roasting until finished.
Remove the turkey from the oven and allow it to sit for at least 15 minutes. Remove vegetables and oranges from inside before slicing. Use any Garnishes you like. Slice and serve.
---