Pita Pockets With Fruit & Peanut Butter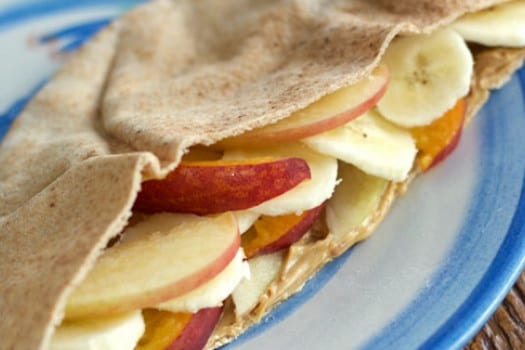 These delicious and nutritious PITA POCKETS W/ FRUIT AND PEANUT BUTTER will become your child's favorite.
As a child, I remember slathering peanut butter and jelly all over white bread, slapping them together, and running out the door during the summer. Here's a healthy alternative that both you and the kids or grandkids can enjoy together.
INGREDIENTS
2 medium whole wheat pita bread
¼ cup natural peanut butter
½ apple seeded and cored, thinly sliced
½ banana, thinly sliced
½ fresh peach, thinly sliced
PREPARATION
Cut the two loaves in half forming 4 pockets, and heat them in the microwave for about 10 seconds to soften them.
Carefully open each pocket and smear the inside walls with a thin layer of peanut butter.
Fill the pockets with a mixture of apple, banana, and peach slices. Serve at room temperature.
Notes
Try different fruit combinations, such as berries, mangoes, grapes you get the picture.
Place prepared pockets in individual bags for a grab and go breakfast or snack.
---