Spicy Roasted Red Pepper Hummus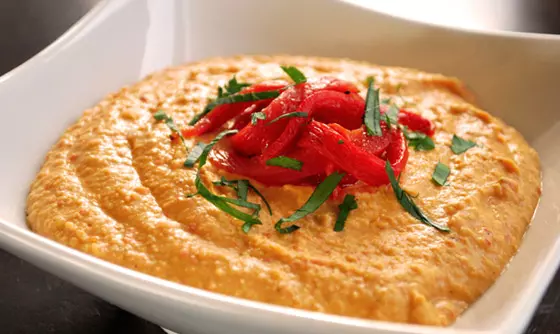 This spicy treat contains protein, healthy fat, and vegetables, making it a powerful combination for a high-quality snack. Enjoy with whole-grain crackers or raw vegetables.
This red pepper hummus starts with chickpeas aka garbanzo beans with tahini. I've heard before that you can peel the garbanzo beans for an extra smooth hummus, so decide for yourself if you want to take the time and effort.
I always have a bottle or two of roasted red bell peppers in my pantry, just for emergencies such as this. If you have a few bell peppers in the crisper, you can always roast your own which we suggest.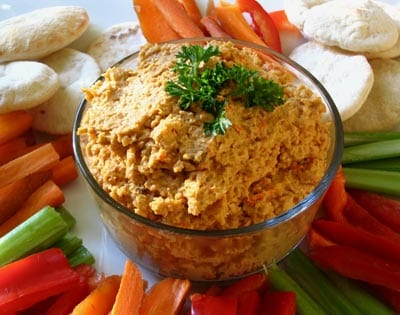 Spicy Roasted Red Pepper Hummus
Ingredients
1 15- ounce can garbanzo beans rinsed and drained
2 tablespoons tahini
1/4 cup extra virgin olive oil
juice of 1 lemon
2 cloves garlic chopped
2-3 roasted red bell peppers jarred or fresh
pinch of cayenne pepper
pinch of kosher salt
chopped fresh parsley as a topping
In an electric blender or food processor, puree all ingredients except parsley. Blend until the mixture is fairly smooth and slightly fluffy. Scrape mixture from sides of food processor or blender between pulses. Transfer to a serving bowl; refrigerate for at least one hour. Before serving return the hummus to room temperature and sprinkle with chopped parsley or desired toppings. It can be prepared up to 3 days ahead and refrigerated.
---
1 comment
---
---