Strawberry Mango Agua Fresca

Just in time for summer sit and cool off with this refreshing blend of Strawberry and Mango water. Full of Nutrients and electrolytes making it perfect for those hot days to rehydrate and refuel.
Strawberries are very rich in antioxidants and plant compounds, which may have benefits for heart health and blood sugar control.
Mangos contain over 20 different vitamins and minerals, including vitamin C, vitamin A, folate, and fiber. Mangos have several health benefits including helping boost your immunity and digestive health.
WHAT IS AGUA FRESCA?
If you haven't tried agua fresca before, it's a drink where fresh fruit is blended with water and sweetener to make a delicious drink. Aguas Frescas are among the most common drinks found throughout Mexico and are a budget-friendly alternative to excessively sweet soft drinks and juices. They can be made from anything, including fresh fruits and vegetables to dried hibiscus flowers and even rice. 
This drink can be made the day before you plan to serve it. Shake the mixture before you serve it.
INGREDIENTS
3 cups strawberries, leafless and halved
1 cup mango, peeled, pitted, and diced
2-3 cups of cold water
1/8 cup lemon juice, freshly squeezed
1/8 cup honey
Ice cubes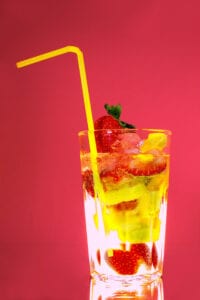 PREPARATION
In a blender, combine strawberries, mango, and cold water. Cover and blend.
Strain the mixture into a jug or large glass jar.
Discard the solids.
Add the lemon juice and honey. Serve immediately in glasses with ice cubes or refrigerate until done.
Makes 7 servings - 1 cup per serving.
---