Sweetened Spiced Oven-Dried Orange Slices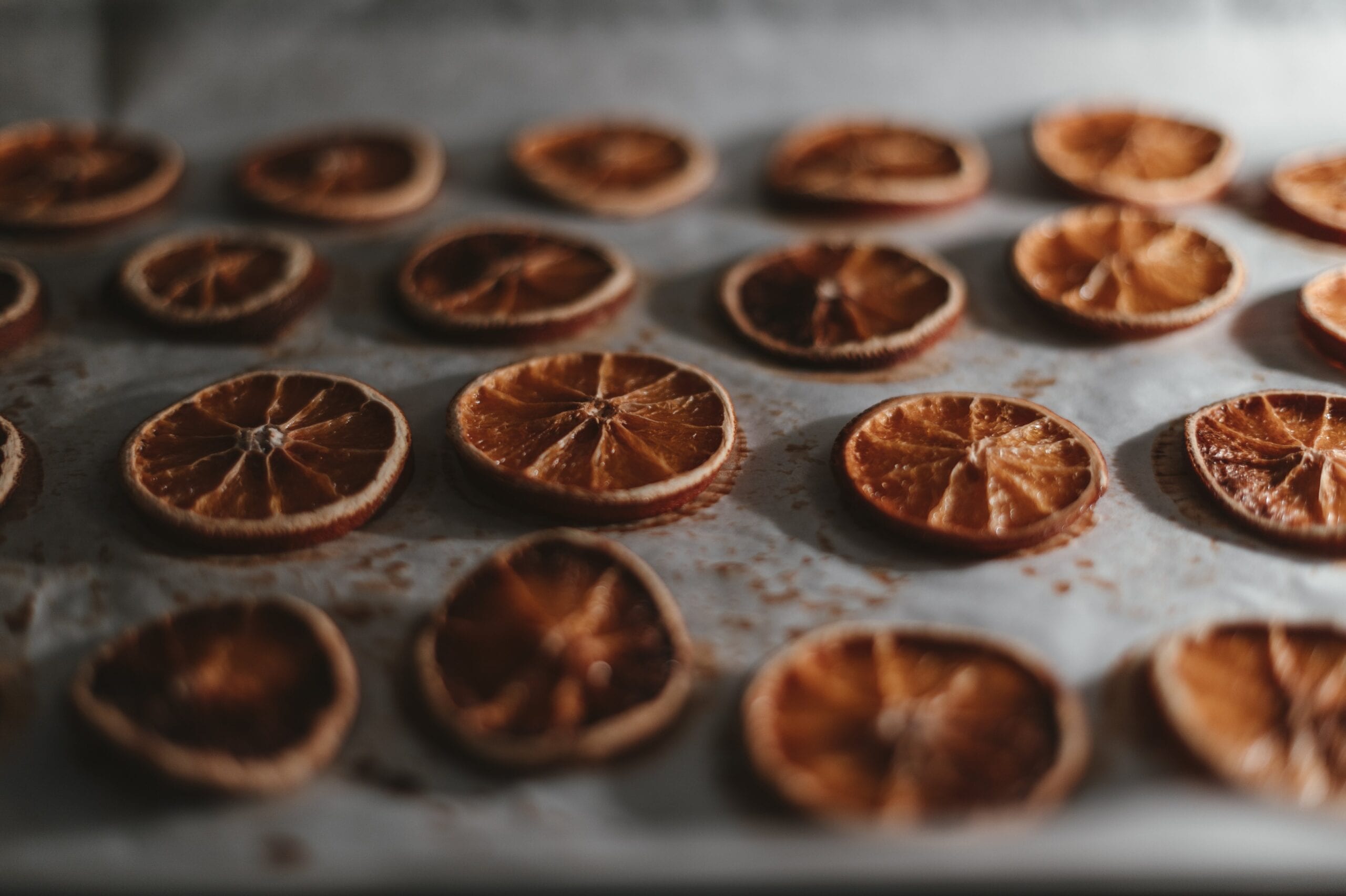 As a kid, were you obsessed with the orange fruit slice candies? We were! Every year, my dad would put a big bag of them out for the holidays or road trips, and they're one of my fondest memories of his obsession with them, which lead to mine. The sugar high (and crash!) did some serious damage. Haha.
The flavor and beauty of oranges is the inspiration for this dried fruit recipe.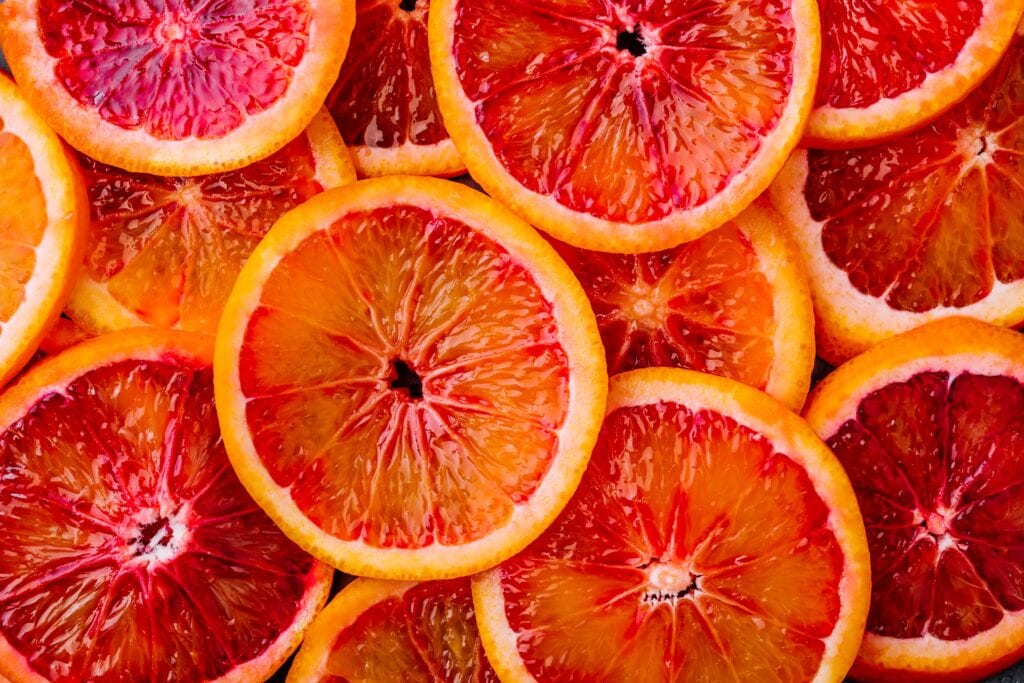 But I also realize that not everyone has 8 hours to dehydrate food, or even a dehydrator for that matter.
The ingredients for a healthy snack don't get any simpler than this!
Oranges– Any variety will work, but you'll have the best success using a seedless or low-seed variety like navel or blood oranges.
Coconut sugar– To cut down on the sugar, use a granulated sugar-free substitute.
Spices– Ground cinnamon, ginger, and sea salt are what I use. Feel free to experiment with other spices, though. Nutmeg, allspice, or even apple pie spice would add unique flavor!
The best fruit for your dried fruit snacks should be tart or slightly tart. This way, you can sweeten them up, but they won't be overly sweet.
Recipe tips and notes
Cut the slices as thin as possible.
If the slices are too thick, they will take much longer to dry out. Also, although the peel is edible, thicker slices will have more of a bitter flavor.
If you have a mandolin, this is the perfect time to use it!
How to use dehydrated oranges
After making the dried orange slices, you can use them as a garnish for holiday cocktails or fruit punch. They are perfect for sangria or mimosa.

Or simply snack on them as-is, peel and all!
Don't underestimate the power of making your own food. You can pretty much make anything healthier these days and save a buck or two while you're at it.
Store in a cool, dry location.
Be sure to keep them in an airtight container and in a cool, dry area. This helps to prevent any humidity from reaching them. Ziploc bags are perfect!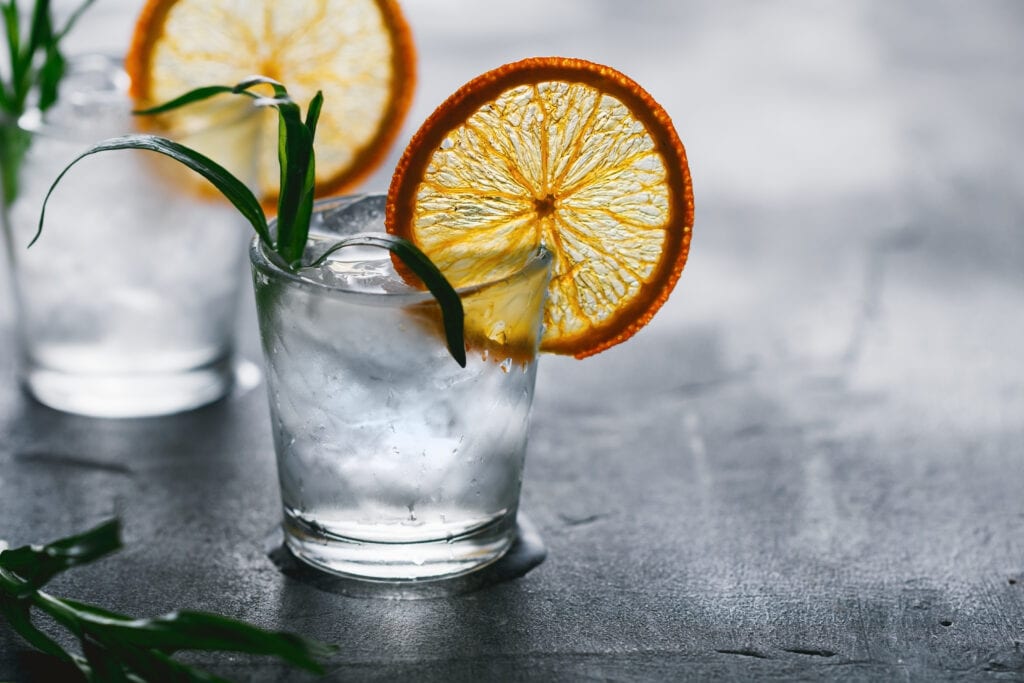 Ingredients
2 Oranges thinly sliced
¼ Coconut Sugar or Brown Sugar
½ tsp Ground Cinnamon
1 dash Ground Ginger
1 dash Sea Salt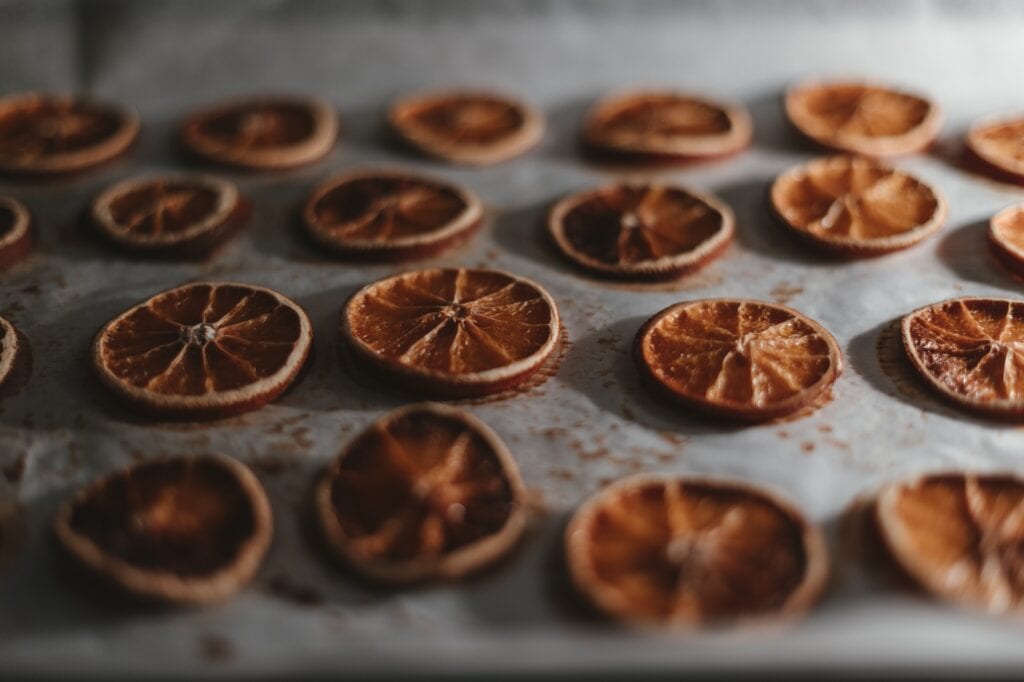 Instructions
Preheat oven to 200°F.
Wash and dry oranges, then cut into very thin slices (as thin as possible). Lay them flat on a baking sheet with parchment paper.
In a small bowl, mix your spices and sugar.
Sprinkle evenly over orange slices.
Dry in the oven at 200°F. For 2 1/2 to 3 hours. If your orange slices are thick, they will take longer.
After removing them from the oven, add more spices and/or sugar, if desired.
Store in a cool, dry place. Ziplock works great!
NOTE: IF YOU PLAN ON EATING, make sure the rinds don't taste bitter, cut EXTRA thin, and add sugar and/or spice to edges before baking.
---