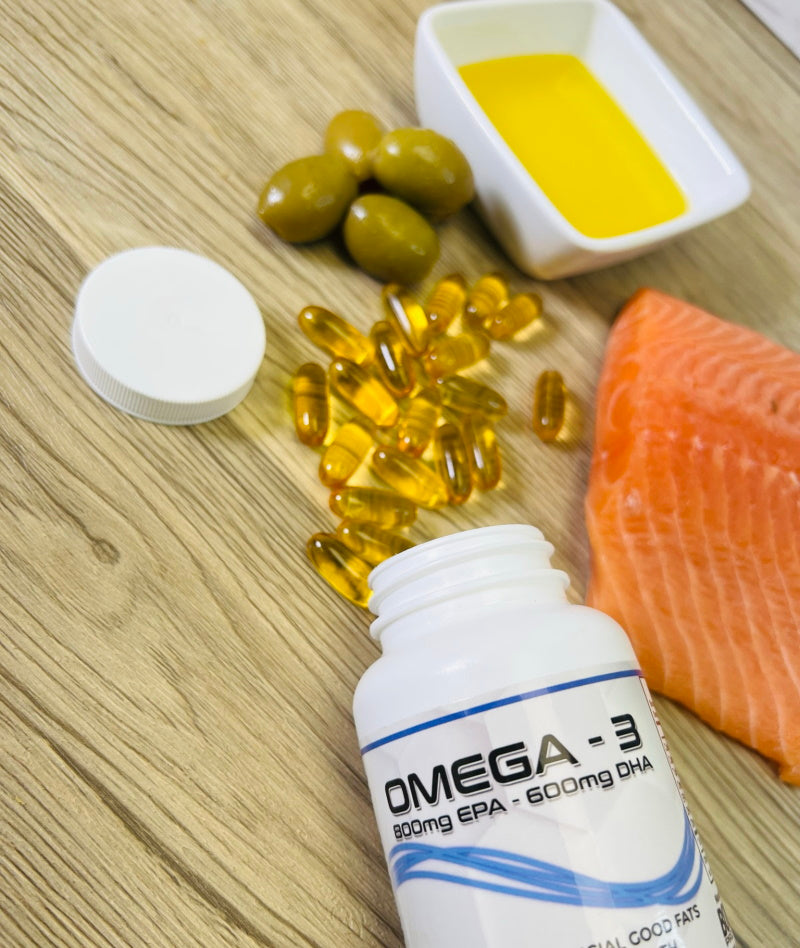 Omega-3
"It is so important to get Omega 3's but not all products are created equally. This is a great product!" - Deborah M. - Verified Purchaser Review
---
Product Highlights:
Support Heart Health
Support Brain Health
Optimize Immune System
Increase Bone Health

Supports Healthy Cholesterol
The Omega-3 Fatty Acids EPA (eicosapentaenoic acid) and DHA (docosahexaenoic acid) are among the most effective supplements needed to preserve and improve your overall health. Decades of research has proven (EPA) and (DHA) to be effective in disease prevention and are crucial for the health of many of the body's vital functions. (7)
Boomer Omega 3 EPA/DHA Fatty Acids support these Vital Functions:
 

Heart Health (1,2)

 

Cholesterol Level Support (3)

 

Brain Health (4)

 

Cardiovascular Health (1,2)
Why Adding Omega3 Fatty Acids to your diet is important to your health:
Both Omega -3 Fatty Acids EPA and DHA are important to be taken as a supplement because your body does not produce it naturally and it is difficult to get enough from your diet alone.
EPA supports Heart Health and DHA is a constituent of membranes of nerve cells in the brain and may play an important part in Brain Function. (4)
Benefits of Using Omega-3
Heart Health: Supplementing with Omega-3 can lower the risk of heart attack and stroke. American medical researchers reported that people who consumed omega-3 regularly had a 50 percent lower risk of a sudden cardiac event than do people who do not consume omega-3 on a regular basis. (1, 2)
Cholesterol Health: Omega-3 can reduce the enzyme activity that causes the liver to metabolize fat, reducing liver triglycerides significantly. (2,3)
Brain Health: EPA and DHA keep the dopamine levels in your brain high, increase neuronal growth in the frontal cortex of your brain, and increase cerebral circulation. Research has shown fish oils help reduce depression, mental fatigue, anxiety, and stress. (4)
Keto Diet Support: Boomer Omega 3's are a High-Quality Source of Healthy Fats that the Keto Diet requires to burn for Energy. (5)
References:
Omega-3 Supplements and Cardiovascular Diseases- 
https://www.ncbi.nlm.nih.gov/pmc/articles/PMC4153275/
An Improvement of Cardiovascular Risk Factors by Omega-3 Polyunsaturated Fatty Acids-

https://www.ncbi.nlm.nih.gov/pmc/articles/PMC5827911/
Fish Oil vs. Statins: What Keeps Cholesterol Down? 
https://www.healthline.com/health/high-cholesterol/fish-oil-vs-statins#how-statins-work
How Omega-3 Fish Oil Affects Your Brain and Mental Health- 
https://www.healthline.com/nutrition/omega-3-fish-oil-for-brain-health 
Effects of n-3 Polyunsaturated Fatty Acids (ω-3) Supplementation on Some Cardiovascular Risk Factors with a Ketogenic Mediterranean Diet-            

https://www.ncbi.nlm.nih.gov/pmc/articles/PMC4344614/
Effects of Omega-3 Fatty Acids on Immune Cells

https://www.ncbi.nlm.nih.gov/pmc/articles/PMC6834330/